About raybilyk
Author Archive | raybilyk
Right from Oliver Heinz himself: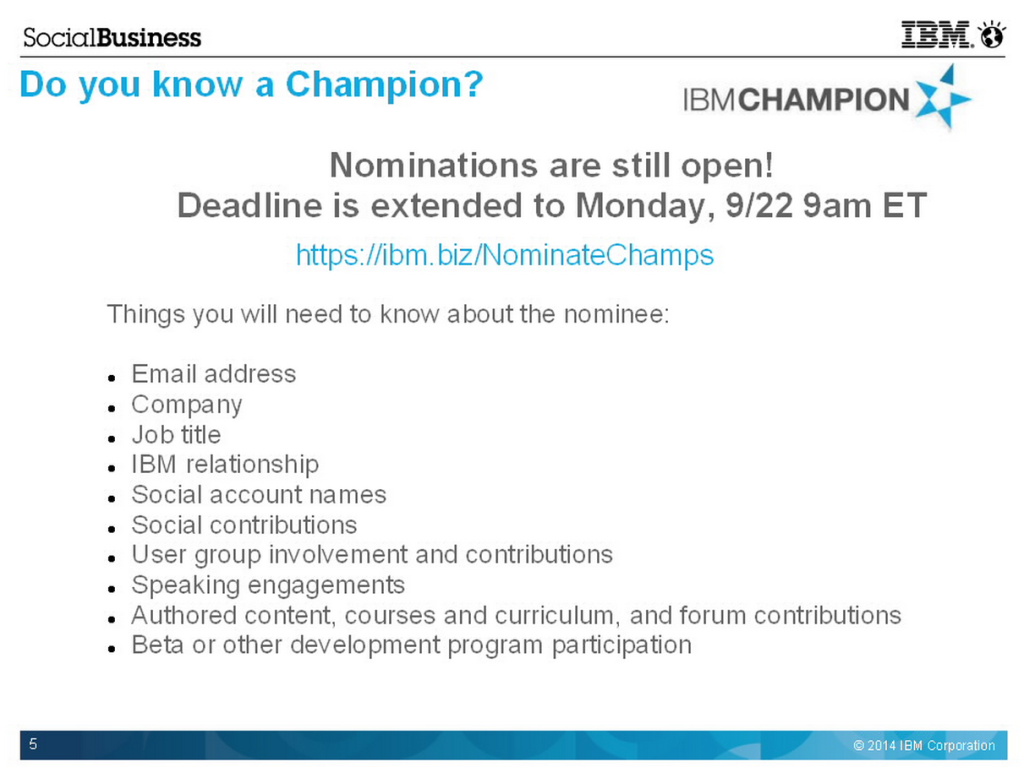 Just a quick reminder to everyone that the nominations (and self-nominations) are all due by 5PM EST tomorrow, September 17th, 2014. You were going to nomination someone, right? Of course you were, so go do it NOW!
Get more details in my earlier blog post: Nominations for the 2015 IBM Champions for ICS are now open!

As usual, I'm late to post this (seriously, do some of you people work?), but IBM has opened nominations for the 2015 IBM Champions for IBM Collaboration Solutions. What is the IBM Champions program? Per the IBM Champion homepage,
The IBM Champion program recognizes innovative thought leaders in the technical community — and rewards these contributors by amplifying their voice and increasing their sphere of influence. An IBM Champion is an IT professional, business leader, developer, or educator who influences and mentors others to help them make best use of IBM software, solutions, and services.

IBM Champions are not employees of IBM.
I have been HONORED to be an IBM Champion for ICS for this past year. The things that I do for the ICS community are the same things I would have done if I had not been an IBM Champion, and I tried to the best of my ability to live up to the designation.
Current IBM Champions have to be nominated again each year… we are not 'grandfathered' in. If you think someone should continue to be an IBM Champion, you have to nominate them again! Don't assume someone else is going to do it.
If you feel like you have been helped by someone in the ICS community, honor them by nominating them! Just click here to get started: https://ibm.biz/NominateChamps – You do not have to fill in every field. Just fill in what you can and hit submit. It may not seem like much, but to those of us that get nominated, it means a lot! (By the way, you can also nominate yourself!)
Click here and here for more information.  Again, click here to nominate someone: https://ibm.biz/NominateChamps
Nominations for the 2015 IBM Champion program will be accepted through 5 PM Eastern on Wednesday, September 17th, 2014. Go nominate someone TODAY!!!
Tom Bilan and I would like to thank everyone for attending our session at MWLUG 2014 – Homebrew your own Metrics-An IBM Domino Administrator's Guide to SNMP. (I also want to thank everyone that grabbed some of my homebrew as well!)
Here is our slide deck for the session:

Personally, I want thank Tom for speaking with me. He's a great presenter, an awesome person, and one of the smartest people I know. I'm constantly learning from him, and hope to continue to work with him for years to come.
Please feel free to provide us with any feedback on the session, both from the session evaluations and by email/comments below. We have some ideas for additional sessions in the future, and we strive to be better every time.
Also, for those of you that took some of my homebrew, please feel free to provide me any honest feedback. I'm trying to get better with that every day as well.
Go read Darren Duke's 'Call to Arms' about getting IBM to listen to those of us that want/need SHA-2 support in the native HTTP stack:
So Domino and SHA2…..There's a SPR for that
Now that you've read it… ACT! He tells you how, and even provides easy links to get you going.
Thanks Darren for leading this charge! Sometimes #ItsDarrensFault is a good thing…

There's only 3 weeks left until MWLUG 2014 in beautiful Grand Rapids, Michigan at the even more beautiful Amway Grand Plaza Hotel from August 27-29, 2014!
I have some simple questions for you:
Why haven't you registered yet?
Why haven't you booked your room yet? (Hotel discount is expiring)
Why don't you want to be cool like the rest of us that are attending? (Yes, you can be cool simply by attending)
Why don't you like beer? (See Thursday Social Event at Founders Brewing Company)
Why don't you like Kramer Reeves? (He's got the OGS presentation)
Why don't you support our veterans? (World War II veteran, author and inventor Virgil Westdale is giving a talk also)
Why don't you like culture? (See Wednesday Tour of Gerald R. Ford Museum)
Why don't you want to learn and be social, thereby helping your employer and you? (43 sessions and workshops plus 3 BOF user group meetings can't be wrong)
Go register (http://mwlug.com/mwlug/mwlug2014.nsf/Register.xsp) and book your room (http://mwlug.com/mwlug/mwlug2014.nsf/Hotel.xsp) NOW, then when you get there, you can buy me a beverage as thanks for reminding you! See you in GR!

As Richard Moy posted yesterday on his blog, the sessions and workshops for MWLUG 2014 have been announced. I am fortunate to speak with my manager, Dr. Tom Bilan, at this year's event. This is our session:
Homebrew your own Metrics: An IBM Domino Administrator's Guide to SNMP It's important as an IBM Domino administrator to get metrics on your servers so that you know what's going on in your "Brewhouse". There are also many ways to obtain this very valuable information, like 3rd party tools and even the IBM Domino Administrator client. What many don't know is that there is also another way to capture this very valuable information. SNMP (Simple Network Management Protocol) is an Internet-standard protocol for managing devices on IP networks. In this session, you will learn more about it, what it can give you, how to set it up, and ways to 'drink in' or monitor the information. With proper configuration, administrators not familiar with IBM Domino can obtain and use key IBM Domino server metrics. Homebrew your own metrics by attending this session!
If you haven't registered to attend this event in beautiful Grand Rapids, Michigan (selected for two years as Beer City USA and recent city to host the National Homebrewers Conference), you need to stop reading this and go register! For only $50, you get over 47 hours of technical and business training, plus the chance to network (collaborate) with some of the best and brightest in our industry!
Have you registered yet? No? Here… let me give you the link: http://www.mwlug.com/mwlug/mwlug2014.nsf/Register.xsp
Did you know that Kramer Reeves, the Director of Product Management for Collaboration Solutions at IBM, is the MWLUG 2014 Opening General Session Speaker? There also going to be some GREAT sponsors there, anxiously waiting to tell you about there products (and maybe give away an item or two).
NOW you want to attend, right? SO GO REGISTER!
Done? Good! Don't forget to get yourself a place to stay, because you're not staying with me!
Did I mention that there might be a beer or two there?
Looking forward to see you all there!!!
Like many of my IT brethren that are going out and following their individual passions (also known as 'things that keep them happy and sane'), I am also following their lead and getting more into the hobby of making my own beer, wine and spirits (also known as zymurgy). I wanted to keep track of the things I see, do and taste, so of course, I'm going to blog it.
Because I didn't want to change this blog, or add content that might not be technologically related, I created a new blog, so I proudly introduce to you…
You Drink Some, You Brew Some – http://www.drinksomebrewsome.com
As I stated on my first blog post,
My goal for this blog is to take my passion and share it with the world. I want to do product reviews, book reviews, recipes, stories, beer tastings and anything else I can do, but only about beer.
Of course, as I get more into wine and spirits, I'll add to that as well.
Why am I doing this now? Tomorrow I leave for Grand Rapids to attend the National Homebrewers Conference. I'm hoping to learn a lot, see a lot, drink a bit, and most importantly, share it all with you (on my new blog).
Who knows where this may lead me, but so far, I'm loving the journey…
Cheers!
I received this email and thought that I would share it. (I'm enjoying what I'm doing here right now, so I have to decline… at this time.) Although it says it's for a developer position, everything in the qualifications scream administrator.
Dear Ray:

We have a urgent requirement for our direct client. Please find the job description below and let me know your interest.

Job title    :Lotus Notes Designer

Job location: Tampa,FL.

Job Type      : Full time.

Relevant Exprience :

Solid understanding of Domino basics such as mail servers, NAB components, domain documents, routing topology, etc.
Experience leading low-level projects and resourcing Domino tasks on larger-scale projects
Solid analytical and troubleshooting skills for Domino server issues, e.g., able to drive an issue to resolution, pull in other resources when needed, etc.
Able to work individually when troubleshooting issues with vendors, e.g., manage problem tickets with IBM or other vendors.
5-8 years Domino mail and application server administration
Experience with with Sendmail SMTP (Unix command-line)
experience with administering messaging mobility services such as Traveler, Blackberry, and/or Good
Experience with IBM/Lotus Quickr (QuickPlace)
Has supported or administered Domino environments that worked with the following technologies:

   – Siteminder
   – Cisco ACE load balancers
   – Apache
   – SQL
   – Websphere

Shashi Mani Dubey
Techinical Recruiter
E*PRO Inc  http://www.epro-tech.com/
Phone no:732-283-0499 Ext-234
Email id: mshashi@epro-consulting.com
http://in.linkedin.com/pub/shashimani-dubey/88/145/596/
Contact the recruiter directly if interested (but let them know that I sent you…)
About Ray Bilyk
http://about.me/raybilyk

Check out my homebrewing/beer blog: You Drink Some, You Brew Some
Countdown to IBM Connect 2015